Description:
Interlocking wire fasteners comprising an open loop of steel wire provided with a means on the open ends, such that when they are brought together in a proper manner, the installed fastener forms a locked, closed loop.
Material:
Fasteners shall conform to ASTM-A764, Finish 2, Class I, Type 3 and have the same weight of coating as specified in ASTM A-641 (A-90). Stainless steel shall conform to ASTM A-313 for applications involving P.V.C. coated gabions.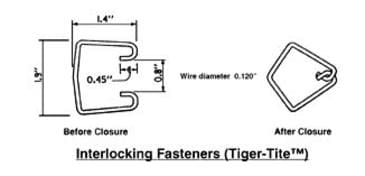 Strength:
Interlocking fastener, when subjected to directional tension force along the axis of the fastener, shall resist a force of at least 800 pounds while still remaining in a locked and closed condition.
Application:
Interlocking fasteners may be used in lieu of tie wire lacing for forming, final placement and lid closing. Fasteners shall be spaced at intervals from four (4) to six (6) inches with a minimum of six (6) fasteners per 3 ft.-seam, three (3) fasteners per 1 1/2 ft.-seam and two (2) fasteners per 1 ft.-seam. Properly formed interlocking fastener shall have 3/4 inch inside area to properly confine required selvedges.