Creative Ways Gabions Can Be Used
Gabions are versatile, durable, and cost-effective retaining walls that can be used in many ways. In this guide, we will discuss some of the most creative ways gabions can be used to improve your landscape. From creating a garden wall to adding privacy to your property, gabions can do it all.
Gabion Planter Boxes
Gabion planter boxes are a simple yet effective way to add greenery and beauty to your property. The use of gabions as an edging or border provides the perfect structure and support for plants and flowers. Not only will this method produce a beautiful look, but it will also provide additional privacy. These planter boxes can also be stacked, allowing you to grow more plants and flowers in a smaller area. Also, because gabions are easily stackable and removable, you can add and remove savor planters to these boxes to change the look and feel of your yard at any time.
Gabion Retaining Wall
Gabion retaining walls are similar to those found at a construction site. Gabions as retaining walls are one of the most traditional methods for using these rocks. Not only will this method create an instant landscape, but it also protects your property from erosion and other damage caused by weather elements. These walls can be built up to whatever height you desire and are a great way to add privacy. Gabion retaining walls are also an economical way to add a decorative feature to your property.
Gabion Step-Stone Paths & Walkways
Gabion step stone paths and walkways are easy to add a unique look or design element to your property. The stones used for this purpose can be placed in any pattern or design, allowing you to integrate a gabion wall into your landscape seamlessly. The stones also serve as a natural-looking pathway, which will lead people from one destination to another. You can even turn this path into a walkway by adding benches and other decors for added style points. Also, as a final option, if you have an area where access can be awkward, gabions can create a pretty archway that provides access and is not damaging to the landscape. These arches are another easy and beautiful way to add privacy and beauty to your property. Unlike traditional retaining walls, gabions can be created with much less material than other methods of building retaining walls.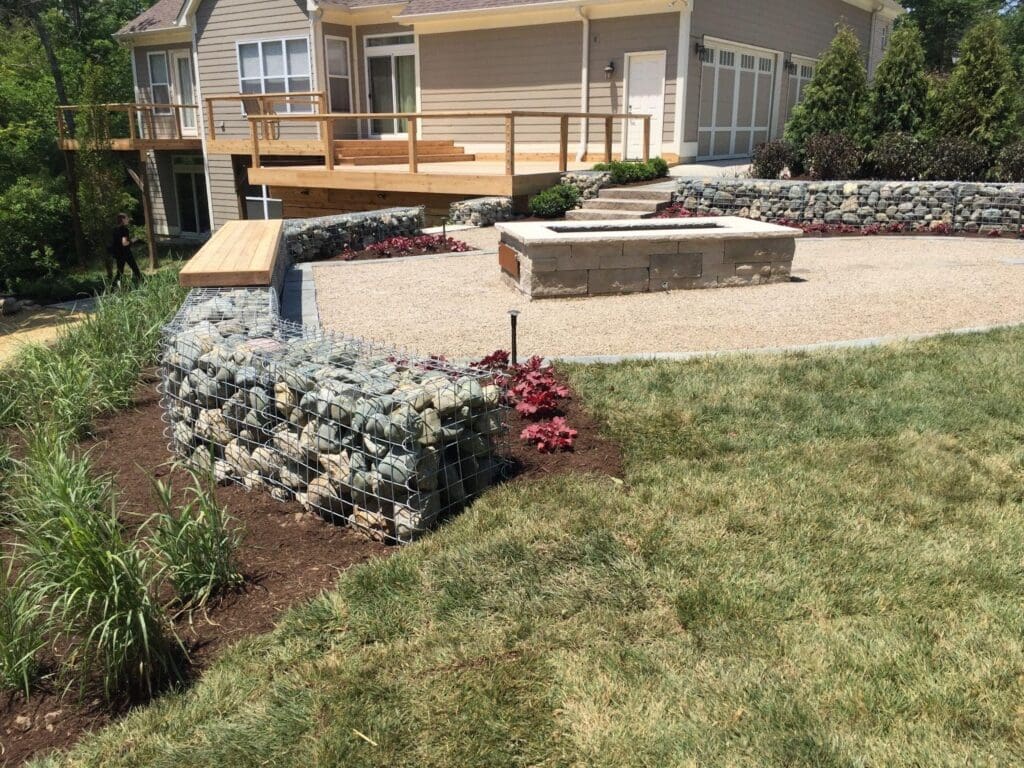 Modern Benches
Gabions can be used to create modern-looking benches that will add a unique look and feel to your property. The most common use is in outdoor seating arrangements or garden areas for this purpose. You can choose from a variety of gabion styles, colors, and designs when building these benches, therefore creating a one-of-a-kind look. Gabion benches can also be created with a back that can double as storage for tools and other items necessary for gardening. Another excellent use for these benches is to create an arbor or gazebo-type setting, allowing you to enjoy your property from a relaxing, scenic spot.
Gabion Arbors & Trellis
Gabion arbors and trellises are an easy way to add a decorative touch to your property. These structures can be used to cover up unsightly areas such as garden tools and trash cans while also adding privacy and stopping excess water from entering your property. The use of gabions in this way provides a rustic and natural-looking appeal that will complement any landscape design. Also, these structures can serve as a way to grow climbing plants and vines, allowing you to fully take advantage of the greenery and beauty provided by gabions.
Gabion Fences
Gabion fences are a great way to add privacy and security to your home or property. They can also be used as an attractive landscaping element, creating a border for your lawn or garden. They are long-lasting structures that will withstand weather elements very well while also providing durability and support. Adding a gabion fence is an inexpensive way to increase the value of your property while adding instant curb appeal.
Stone Cladding
Stone cladding can improve the aesthetics of any structure. This method can be used to cover up old or damaged siding, creating a rustic and natural look similar to stone walls. Stone cladding can also be used to create pillars for fencing, allowing you to achieve the desired height without the need for an actual fence. In addition, stone cladding can be used to create a unique wall around your property. The use of gabions allows for the addition of height while also delivering the rustic look and feel of natural stone. The combination of grates and storm-proof metal gates allows you to control your privacy while keeping out unwanted critters.
Raising Ponds & Lakes
Another traditional use for gabions is to raise ponds and lakes. This method will provide a sturdy foundation that you can then cover with dirt, creating a more natural look. You can also add rocks around the edge of your pond, which will allow fish and wildlife the perfect place to sit and hide from predators. Also, adding larger rocks to the bottom of your pond is an easy, natural way to stop excess algae growth. Likewise, you can add large boulders to the top of the ponds and lakes in your yard, creating a natural-looking waterfall or flow.
Gabion Swimming Pools
If you live in an area that is hot during the summer months, a gabion swimming pool might be the perfect way to cool off and enjoy yourself. These pools can also add value to your property and give it a touch of luxury. If you want something even more impressive, consider building a gabion grotto or cave instead. Also, gabion pools can be built using smaller gabions, creating a beautiful rock water garden with a waterfall as well.
Gabion Walk-In Showers
A gabion walk-in shower is an easy way to add some luxury. It can provide a natural-looking design element while also being incredibly functional. This will conserve water and create the perfect outdoor shower experience. You can even incorporate stepping stones or mosaics into your walkway, therefore creating a truly luxurious experience. Also, gabion walk-in showers can be added to existing structures, allowing you to create a unique look even if you have an older structure.
Gabion Fire Pits
Setting up gabions to create fire pits is a great way to add value and excitement to your property. The stones will act as a barrier to the fire, protecting your property and your family. You can also use gabions to line your pathway up to the fire pit, creating an exciting experience for all of your guests.
Gabion Arborvitae
Gabion walls also provide a great way to add value and character to your landscaping. This method is called Gabion Arborvitae, which translates to rock garden in Latin. These stone structures can be used as an alternative to flower beds, making it easy for you to add curb appeal while also providing an interesting piece for your yard.
Gabion Pedestals
Using gabions to create pedestals for your landscape is a great way to add value and style. You can use these stones in any design, whether that means creating planters or potting benches. The possibilities are endless with this method, which is precisely what makes it so fun!
Home Address Numbers
Gabions used to create mailbox numbers is a great way to add unique character and value. In addition, the stones will protect the numbers from both water damage and fading, providing you with a long-lasting setup that will allow your home to stand out from the crowd.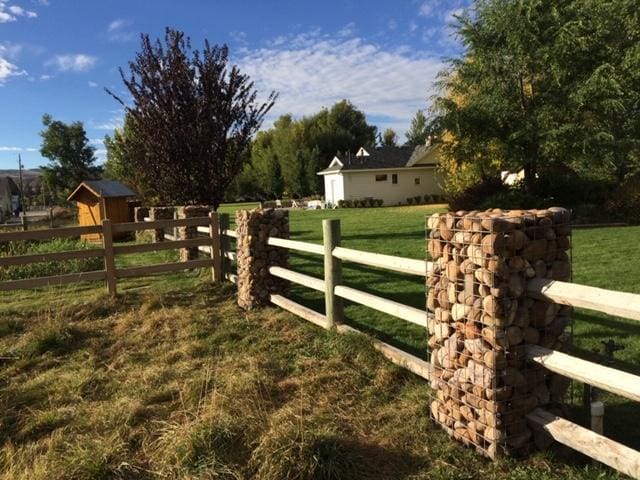 Gabion Wood Stove
Using gabions to build a wood stove will create an exciting and useful structure that you can enjoy for years. This is a great way to add value and curb appeal while giving your backyard a practical purpose. Additionally, the stones protect from the fire, so the threat of damage is decreased.
Gabion Garden Entrance
This is another example of what you can do with gabions to create an exciting entranceway for your garden. This method will make the plants more accessible while adding value and style to your property. You can use these elements anywhere, including in front of a house or creating a backyard retreat using gabion walls.
Gabion Shelving
Another unique use for gabions is to create shelving. This setup is easy to install and will provide you with a long-lasting structure that can be used for years. You can turn this into a functional piece by adding hooks or hangers or adding lights along the top of the stones.
Gabion Fire Pit
This is another example of what you can do with gabions, which in this case is to create a stone fire pit that you can enjoy for years. You can build this structure in your backyard or even inside if you'd like, making it easy to incorporate into any design. Also, the stones will not heat up, ensuring that you won't burn your feet or your legs.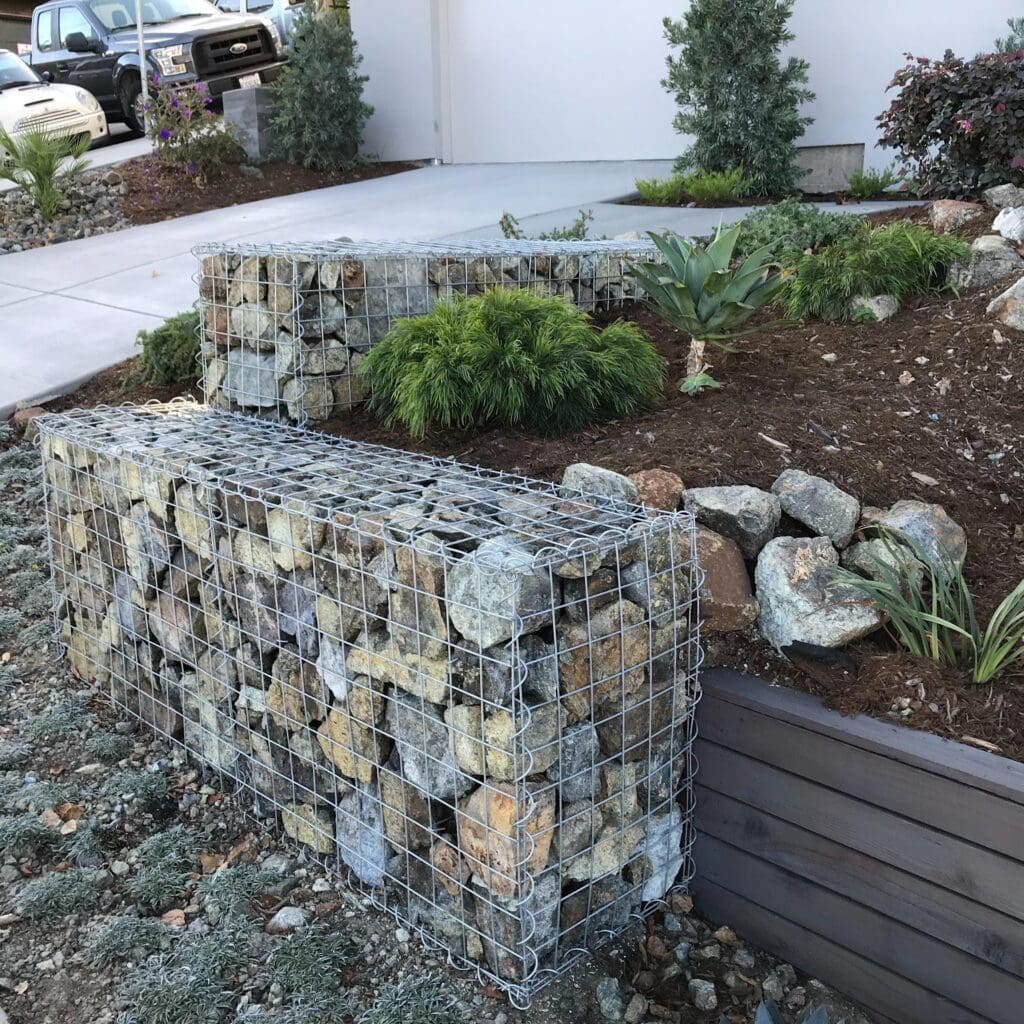 Gabion Stone Bench
Using gabions to create benches is a unique way to add value to your yard. This is easy to accomplish and will provide you with an exciting centerpiece for any party or gathering you have planned in the future. Plus, the stones are durable enough that they can be used for decades!
Suspended Gardens
Suspended gardens are an easy way to transform your property into an abundant, lush garden. The use of gabions allows for the creation of this design element, which will give you a beautifully designed and planted garden that will provide long-term benefits and one-of-a-kind appeal. Suspended gardens can also be built on a platform, creating a raised and shaded area perfect for relaxing. If you plan on using this type of gabion garden for seating, it is essential to choose the right seat height. This will create an inviting area that allows you to enjoy your garden while not damaging any plants or flowers.