What Is a Free-Standing Rock Wall?
When it comes to creating divisions on an area of land, various walls can be used. From load-bearing walls to free-standing rock walls, different walls suit different needs depending on a client's requirements.
Free-standing rock walls aren't much different from what their name insinuates. Free-standing rock walls are rock walls that can stand alone without support. Given that these walls function on their own, they need to be able to withstand outdoor elements such as high winds and pressure as well as changes to the ground throughout the years and seasons.
Free-standing rock walls are carefully curated from a selection of rocks and other materials to form a well-sustained wall. This not only ensures a strong foundation and base but also looks aesthetically pleasing for commercial and domestic use.
Free-standing rock walls are used to create a bold and beautiful perimeter that enhances the appearance of outdoor spaces.
What's the Purpose of Using Free-Standing Walls?
Unlike retaining walls, free-standing walls aren't built to withstand soil. Free-standing walls are mostly used for decorative purposes, given how aesthetically pleasing they look while still serving an important function.
Free-standing rock walls are a popular choice for people looking to go down the sustainable route, given they are filled with stones that have been minimally processed. Free-standing rock walls have a lower carbon footprint than other standard retaining walls out there, making them a more sustainable choice for those looking to enhance their space in the long run.
Free-standing walls can enhance a space and provide a sense of division or privacy for those that need it. Instead of relying on fencing that can quickly deteriorate, free-standing walls are built to last. This helps create divisions on areas of land that are aesthetically pleasing and durable.
When to Use Free-Standing Walls
Free-standing walls should be used for clients looking for an affordable, sustainable, durable and permeable wall that looks as great as it performs. Depending on the layout of your land, it's important to discuss your needs with an expert to ensure a free-standing wall is suitable for your needs.
If you're looking to build a free-standing wall, it's important to understand the nature of the ground level and whether or not it's a flat surface. When building a natural stone wall, it's important to consider the effects the ground will have on the overall construction of the wall.
If you want to build a wall on a continuous slope, you may require a retaining wall. Our team will be able to navigate you through this process and recommend a reliable solution.
What Makes Free-Standing Walls Different From Retaining Walls?
While retaining walls can be designed to be aesthetically pleasing, they are usually created for the specific purpose of holding back soil. This is needed at a lateral level to ensure that the wall can keep the soil intact on natural slopes that need a strong structure. Retaining walls are often used when clients want to create a wall across various levels.
Free-standing walls can transform the appearance of outdoor spaces but aren't used when it comes to soil retention. Free-standing walls are typically used when dividing certain areas of land with beautiful and sustainable stone. By using stones when creating a free-standing wall, you can worry less about damage over time, given they're known for their permeability. This results in no additional drainage being needed leading to a more worthwhile result.
Boundary walls help create division while looking aesthetically pleasing. While they aren't created to specifically provide structural support, they do provide much-needed division in homes and other commercial settings.
Why Choose Gabion Supply for a Free Standing Rock Wall Project?
When it comes to creating a free-standing rock wall, it pays to work with experts with the skills, knowledge and expertise needed to build a lasting wall. While free-standing rock walls may look simple and straightforward, the building process is relatively complex. That's because certain things need to be kept in mind during the building stage, such as weather conditions, gravity, changes to the ground and more. When working with Gabion Supply, you can rest assured that your wall is built securely and safely.
Get in Touch
If you're interested in creating a free-standing rock wall, contact our team today. Check out our website full of inspiration for free-standing walls that we've created in the past, or give us a call to find out more about what we offer. We can't wait to hear from you.
Typical free standing wall with support column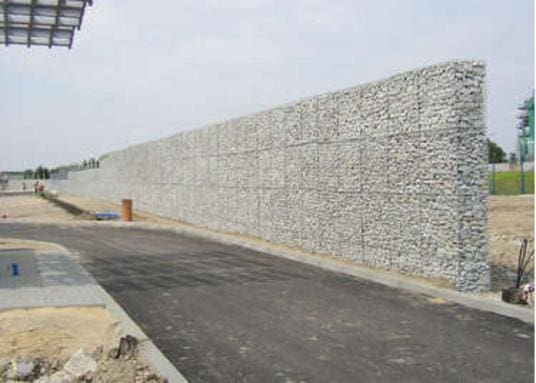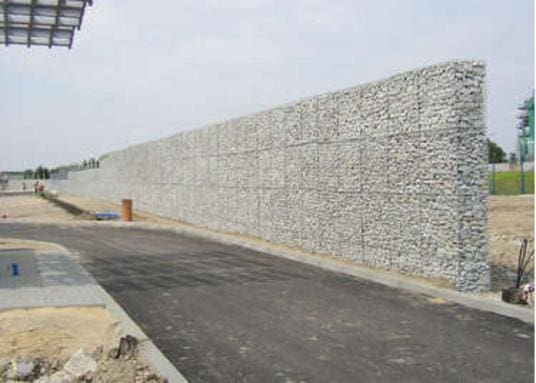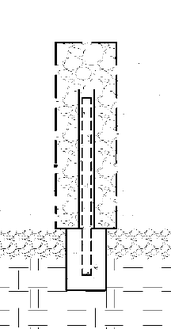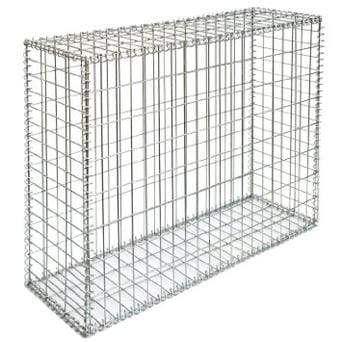 Gabion wall with support columns