GabionSupply is proud to be a distributor for Geostar Technologies LLC in the North American market for AquaRockBags by IGG.
Aqua Rock Bags are constructed of abrasion and UV-resistant virgin HDPE materials.
This means these durable bags have a performance lifetime of over 50 years when properly installed.
AquaRockBags are ideal solutions for projects dealing with surface water run-off and energy flow velocities and suitable alternatives to concrete. Our rock bags are made from a high strength, UV-resistant, HDPE material. The filling aggregate should be angular to get an interlocking fit, but not too sharp so there is no liability of the bag tearing. These components together form a flexible system ideal for the flow and development of water energy and the generation of sustainable solutions.
Unlike concrete, these rock bags can be easily deployed and work together as joint units that are permeable and strong enough for any situation. AquaRockBags have many purposes, including forming artificial reefs, scour protection, bioengineering solutions, abutment and revetment applications, as a suitable alternative in saline water environments, or simply for temporary work solutions.
The many ecological benefits, including the potential habitat for invertebrates, encourage a natural process with each Aqua Rock Bag deployment. This is ideal for any situation needing a product with strength and long-term use — above and below water level. Our AquaRockBags are ideal for projects dealing with surface water run-off, energy flow velocities and sustainable solutions.
What Types of Projects Can I Use AquaRockBags For?
AquaRockBags can be used for various projects and provide a sustainable solution for controlling surface water run-off and storing water energy. They are ideal for jointing material and provide an alternative to using concrete. They can provide ecological benefits by providing a habitat for invertebrates and can provide long-term use with natural processes. AquaRockBags are an excellent choice for ensuring natural beauty and an enduring marine habitat for all types of sea life.
How Are AquaRockBags Used for Erosion Control and Shoreline Protection?
AquaRockBags provide a safe and effective solution for controlling shoreline erosion and protecting land. When these durable and reliable bags get placed around areas at risk of eroding, they provide a strong defense against wave action and high water levels.
Not only do AquaRockBags protect land and infrastructure, but they can also improve water quality by trapping debris and sediment that might otherwise end up in the water. The bags contain geotextile materials that allow water to flow but block sediment, improving water clarity and preventing a buildup of toxins.
In addition to their function as erosion control and shoreline protection, AquaRockBags also create an ideal habitat for wildlife. Their durable construction allows for greater habitat longevity and creates a secure place for fish, aquatic vegetation, and other organisms to grow. They also create additional protective breakwaters from wind and waves, helping protect and promote a healthy coastal ecosystem.
Overall, AquaRockBags are an ideal solution for many shoreline erosion control and protection applications. They are an economical and environmentally-friendly choice that can impact shoreline health and long-term stability.
What Size AquaRockBags Do You Offer?
We at Gabion Supply have all the supplies necessary to give you the perfect project. We offer AquaRockBags of varying sizes. Our range includes 1, 2, 4 and 8-ton bags ranging from about 2 to 4 meters in diameter. We're happy to cater to your requirements should you need something larger. We understand the importance of the task and strive to meet your specific needs. We also offer custom sizes upon request.
What Are the Benefits of Using AquaRockBags?
Gabion Supply AquaRockBags are the best choice for aquatic structures. They have a multitude of advantages and are versatile.
The primary benefit of using AquaRockBags is convenience. Their structure and shape allow for quick, efficient installation, even on uneven surfaces. Plus, the construction is simple and time efficient due to the pre-made pockets, so it doesn't require a lot of manpower or large-scale equipment. Their strong stitching allows for greater load capacity and more effective current attenuation.
These bags have greater structural integrity than other options. These bags are constructed from environmentally virgin HDPE and that they can be filled with the aggregate of their choice rather than just fractured high strength granite. The water-permeable structure means they can drain effectively, preventing soil saturation and any other erosion-related problems. Plus, they are manufactured with long-lasting UV-stabilized fabric, giving them a service life of over 50 years.
Additionally, these bags can be easily filled off or onsite using the filling box/jig and brought in for fast placement with the lifting ring.
Overall, the versatility and reliability of AquaRockBags make them an ideal choice for many applications. Whether you're building a waterfall or stream, an outdoor deck or marine and coastal structures, AquaRockBags can provide a reliable, effective, and attractive solution.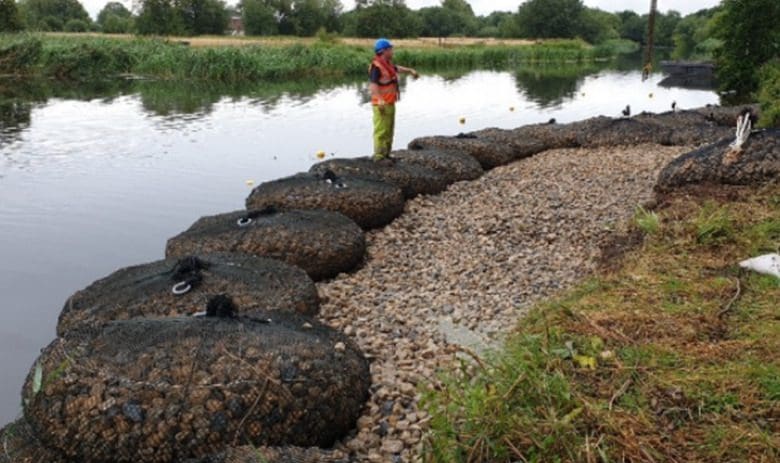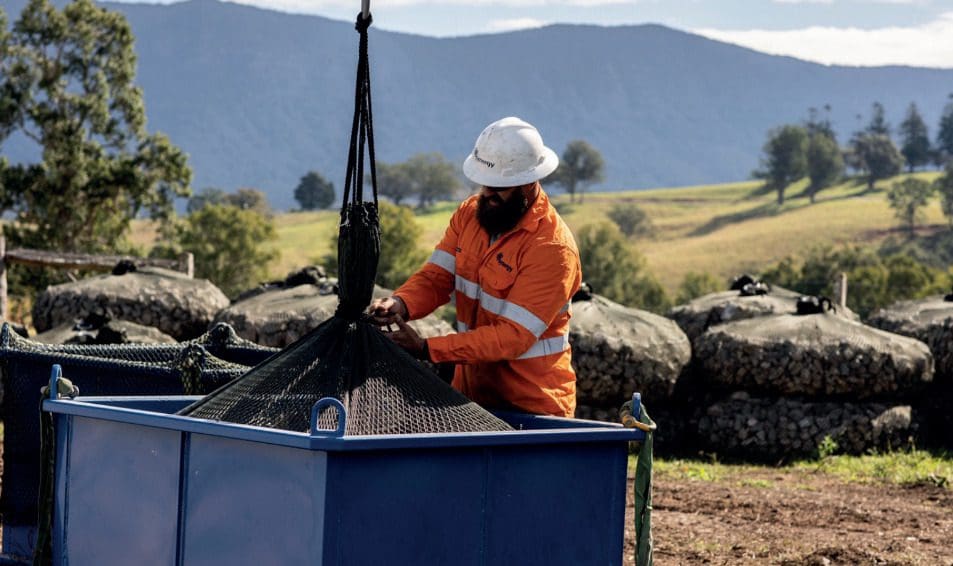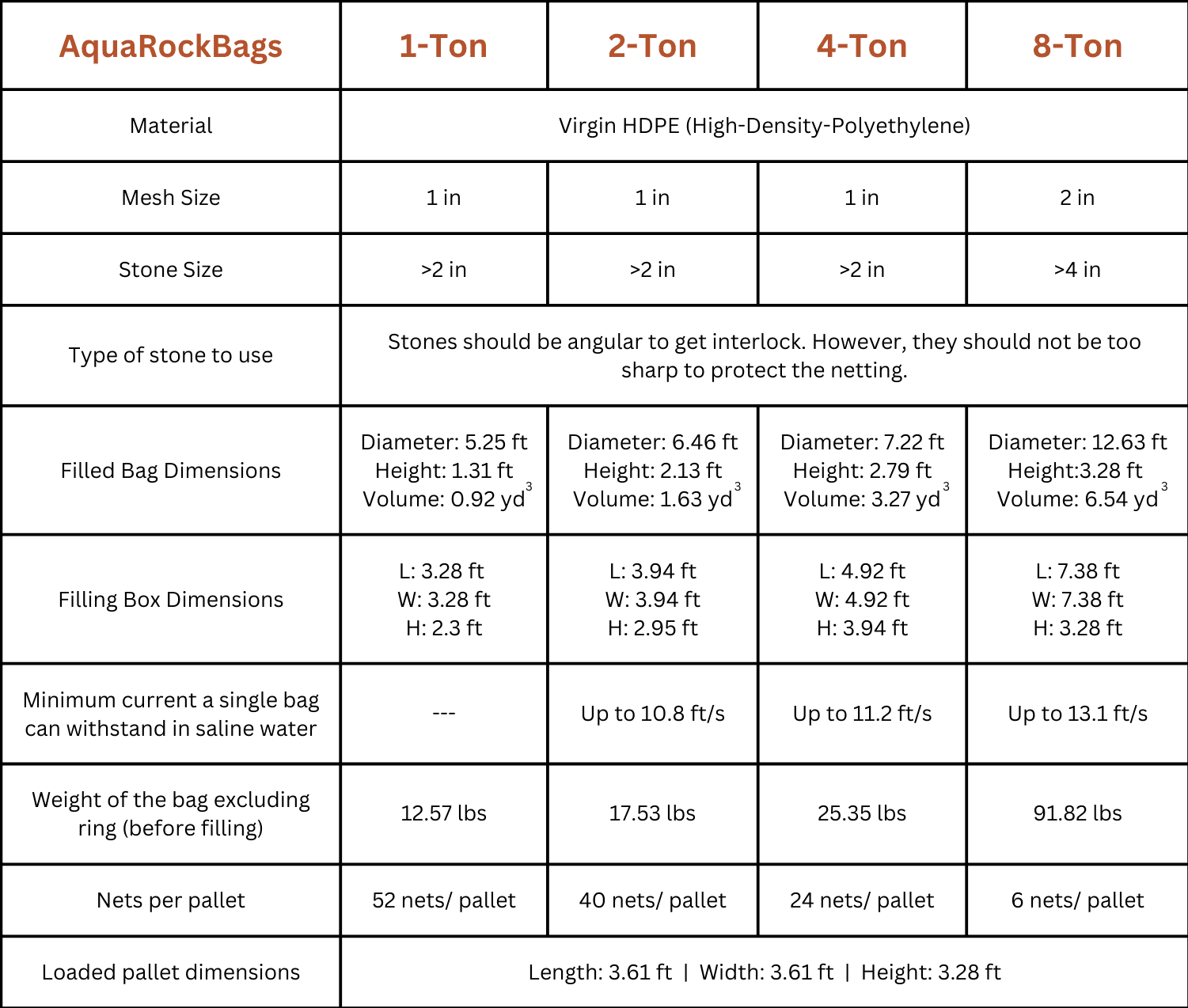 Technical Data Sheets and Downloads