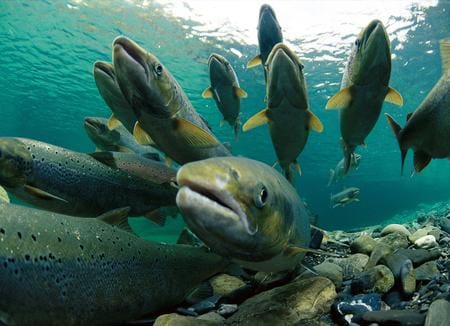 Fish Screens Protect Aquatic Life, and More
How do fish screens protect both fish, aquatic life and humans? Because they help to provide water that is free of debris, they are good for the ecosystems we all live in. They also have the purpose of protecting the most vulnerable aquatic life, especially endangered species of fish and aquatic animals.
Important for Dams, Hydroelectric Power Plants, Aqueducts & Other Structures
Fish screens for dams protect fish and turtles from being drawn into the water intake. Screens may have different shapes; they must not injure the fish, however, as the fish collide with the screen. Screens must be resistant to deterioration and corrosion. Our rock-filled gabions offer excellent filtering without being dangerous to fish and turtles.
There are low flow rate fish screens as well as others that may be custom designed for a large flow of water. Sometimes the flow rate changes with the seasons and more plant life. We can help you determine the best fish screen materials and setup for your application.
Fish Screens Protect the Fish
In addition to protecting man made structures such as dams and keeping the water cleaner, they can also protect specific types of fish and aquatic life. Some may protect a single species of fish, such as salmon, while letting other types of fish through. Certain screens can help protect fish in the early stages of life, or may be used to study a particular species of fish.
Gabion Fish Screens are an ideal solution for diverting river flow and protectiing fish and turtles from being drawn into water intakes such as those used in hydro-electric dams, chemical plants, municipal drinking water plants, etc.
The porous nature of gabions allow water to pass through freely while restricting fish and turtles from passing through the rock filled baskets.
We offer several choices of gabion materials including: galvanized wire, PVC coated wire and DURA-GUARDTM stainless steel or co-polymer marine gabions that will last a lifetime in salt water