Mechanically Stabilized Earth Walls (M.S.E.) are reinforced gabion walls constructed using multiple courses of DURA-WELD™ or DURA-FLEX™ Gabion baskets integrated with flat steel wire mesh panels or GEO-GRID geosynthetic layers placed horizontally between the layers of gabions to lock into a slope with compacted backfill on top.
MSE retaining walls are a modern alternative to the conventional reinforced concrete retaining wall, and have a number of advantages over concrete retaining walls.
MSE retaining walls consist of soil, reinforcing elements, precast concrete blocks, and wall facing. They are well-suited for curved applications, making them versatile and ideal for areas where it is difficult to bring in large pieces of heavy equipment.
10 Benefits of MSE Retaining Walls
1. These walls are able to accommodate high differential settlement and large total amounts of settlement.
2. They are able to achieve high wall heights and carry extreme loads.
3. Bearing pressure can be dispersed across a wide area.
4. MSE retaining walls are highly resistant to dynamic forces such as seismic activity.
5. They employ fast, predictable, and repeatable construction techniques.
6. They are extremely versatile, allowing designs for multiple geometries.
7. They offer the advantage of mechanically connecting soil reinforcements to facings.
9. The aesthetics can be customized with murals.
10. Obstructions within the backfill can be easily accommodated by soil reinforcing strips.
Uses of MSE Retaining Walls
MSE retaining walls can be employed in a variety of applications. They can be used as temporary structures, such as in highway projects or for containment structures. They are also used in dam, dike and levee construction. Other applications include bridge abutments, wing wall systems, and the creation of storage areas.
MSE Solutions from Gabion Supply
Gabion Supply offers materials for various types of Mechanically Stabilized Earth (MSE) and Reinforced Steep Slope (RSS) Systems. These solutions provide our clients with an array of aesthetics and facing options, allowing for the most cost-effective use of land while achieving maximum architectural and environmental value. We offer economical alternatives to traditional building materials  that incorporate high-performance geo-synthetic products and High-Density Polyethylene (HDPE) soil reinforcement systems. 
BUILDING AN M.S.E. RETAINING WALL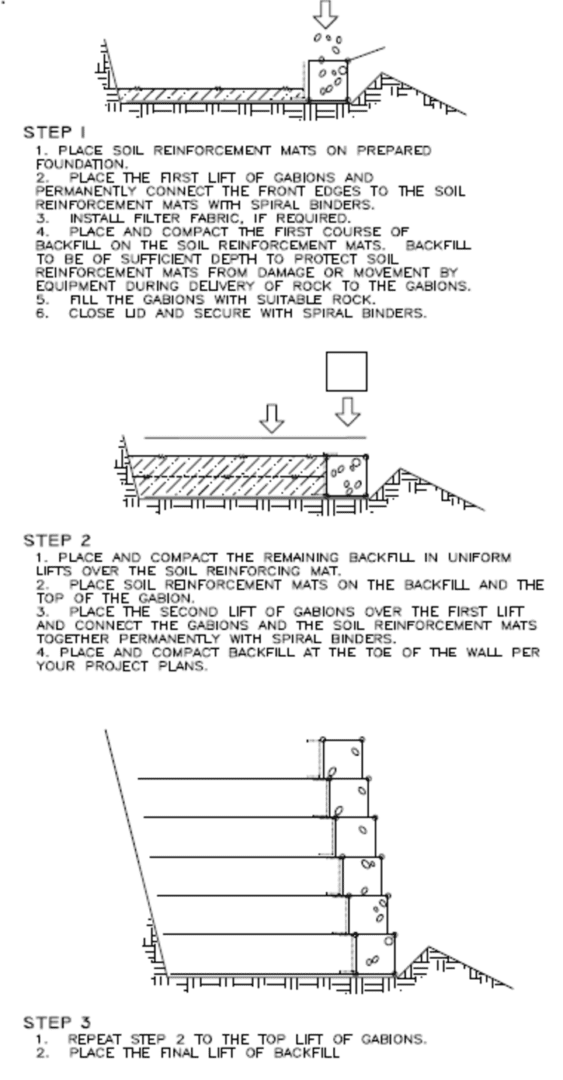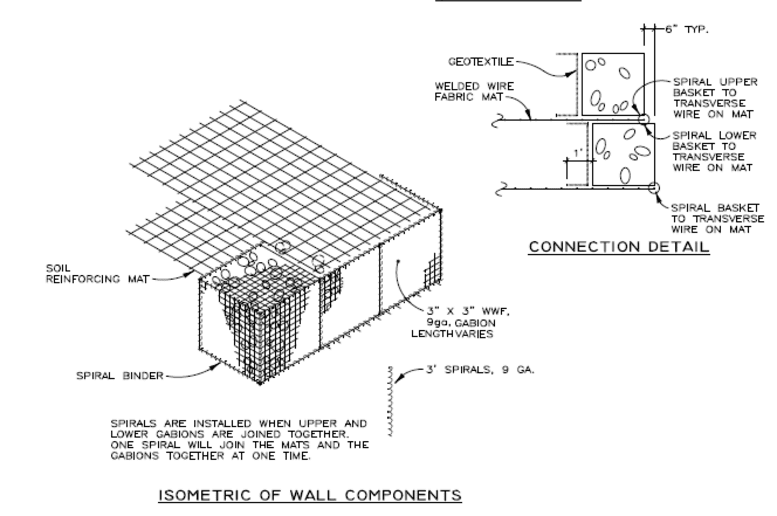 MSE gabion walls afford important advantages:
Permeability of the front face and drainage of the backfill
Flexibility: enabling the structure to tolerate differential ground settlement without compromising structural integrity
Versatility: allows the formation of a structure with vertical, battered or stepped front face as required and minimized environmental impact
Durability:  testimonials of existing gabion structures built since 1894 and still in operation  prove that MSE structures can be safely designed for 120 years design life
Economy: construction does not require specialized labor or equipment
 Filling: gabions are filled with natural or quarried stones obtained locally with minimum foundation preparation
Structural safety in the event of fire near the front face
Reduction of environmental impact through the use of vegetation planted into the front face of the structure