Create a Green Wall with Our Vertical Garden Products
We are excited to release our new line of Garden Wall Products.  We realize stone alone is not always the desired aesthetic and so we are happy to be able to offer a complementary product line with our GreenTexx line of Green Wall products that can be used either in conjunction with our Architectural Gabion product line or as a stand alone system.  Just like our line of Architectural Gabions, Green Walls are at home in many different applications both interior and exterior.  With a variety of product offerings to suite different installation requirements available, we are sure we can help you achieve your vision.  Below is a brief summary of our GreenTexx green wall product line.  We have buy buttons below allowing you to purchase many of our Green Wall products directly from our BlueStoneSupply site. For larger projects please get in touch with us and we can work with you to put together a price point and product offering to make sure you have the right Green Wall or Vertical Garden for your project. Give us a call or email us if you have any questions.
Green walls, vertical gardens, living walls are in-ground traditional gardens that grow upward instead of horizontally.
Types of Vertical Gardens
Green walls are surprisingly versatile! They can be used indoors or outdoors, and can use living or artificial plants.
When planted with living plants, indoor vertical gardens or green walls can help clean the air. They often include ferns, ficus repens and pilea. An outdoor vertical garden or green wall could include vegetables, herbs or succulents. They are often used to create a shield from the sun. The vertical garden wall offers shade and a place to relax.
Used outdoors, there are many different types of green walls to choose from. Our GreenTexx Plantable Block System is just one example -- a gorgeous green wall created with recycled plastic retaining wall blocks.
Benefits of a Green Wall or Vertical Garden
Planting and growing decorative plants, vegetables, flowers or fruits is easy with a vertical garden. You won't have to pull weeds or worry about pesky animals nibbling your plants. If you've always wanted to garden but have a small backyard, a green wall is a smart and space-saving solution.
When it comes to DIY projects, a vertical herb garden can be a fun family project or an easy intro to your first gardening experience. Some people combine vertical garden ideas, such as growing herbs and tomatoes or cucumbers and flowers in the same space.
Gabion Supply Is Your One-Stop Vertical Gardening Shop
Why go from website to website on the internet to find exactly what you need for your vertical garden from our BlueStoneSupply site? Our DIY systems include everything you need to get your vertical gardening project up and running in no time. All you need to do is add the appropriate plants.
Appropriate for Beginners and Seasoned Gardeners
Our vertical garden systems come with instructions that outline each step in setting up so you can begin growing an herb garden, ferns, potted plants, succulents and other garden ideas in no time. Vertical gardens are great for experienced growers who have limited outdoor space and want to increase their flower or vegetable production, but they are also intuitive enough for beginning gardeners.
High-Quality Gardening Products
All of our gardening systems come with high-quality components like gardening fabric, pipe and drainage holes that allow sufficient nutrients and water to reach plant roots and provide a thriving growing environment. Gardening in small spaces has never been so easy! Check out our Green Wall Product line today.
GreenTexx Pocket Panel System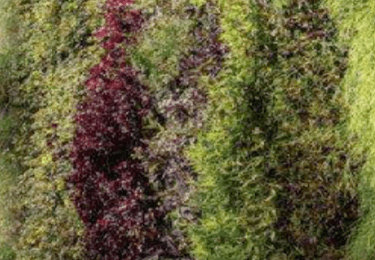 One of our live green wall options, our Pocket Panel System allows you to place 25 plants in individual pockets in a 1 meter by 1 meter panel constructed of rock wool, geotextile, and aluminum framing.  Using drip irrigation across the top of each panel and allowing it to saturate the geotextile, the plants are easily and consistently watered.  The geotextile panel is quickly and securely attached to the aluminum frame mounted directly to the wall.  Water flow controls and smart phone applications are available to track and control the irrigation of your panels to make sure they are receiving the optimal hydration and fertilization treatment.  With irrigation and light considerations taken into account this system can easily be used both indoors and out.
GreenTexx Sock Rack System
If you are looking for a live green wall system with a larger soil base to handle a variety of plant species our Sock Rack System is for you.  The sock rack system has the soil base to handle decorative green walls as well as vertical edible gardens.  With a standard panel size of 4'x4', which can hold up to 16 - 2' long by 6" tall socks in modular racks.  The high quality Made in the USA plastic trays contain a channel for efficient drip irrigation and the tubular form of the growing socks allow for excellent air flow improving root growth.  The socks can also be easily swapped in and out allowing you to change your plant species based on the season and keep the socks growing in a green house in the off season.  Similar to our Pocket Panel System, our Sock Rack System can be used both indoors and outdoors with minimal modifications.
GreenTexx Faux Panel System
When you are looking for a green aesthetic but are worried about water, light, access, or maintenance our artificial plant panels may be right for you.  Each 2.8'x2.8' panel is made by securing 85 synthetic plants from 16 different species on a powder-coated steel mesh frame.  They are available in 2 styles, Rio and Monaco.  They are virtually maintenance free as well as being UV rated and fire retardant for use both indoors and out.
GreenTexx Plantable Block System
Our Plantable Block System installs in an alternating pattern allowing open space throughout low height landscape retaining walls.  The blocks can then be filled with the soil filled socks used in our Sock Rack System.  The plastic blocks can be nested for shipment allowing a large quantity of facing to ship on a single pallet cutting freight charges while providing a stable base for a variety of vegetation options to suit the site specific design requirements.
GreenTexx Preserved Moss System
Our selection of ecologically harvested reindeer moss can provide an excellent aesthetic boost to a variety of interior applications.  The moss is harvested in a sustainable rotation and preserved using salt water.  The 16"x24" panels are available in a variety of colors to give a green touch with minimal maintenance.